Welcome to our site!
Locally owned and operated, Mark Twain Insurance Services has delivered quality insurance solutions to individuals in California, and many more, offering Auto and Homeowners insurance coverage, as well as other insurance products. Our team of experienced insurance professionals is committed to helping you find a policy that fits your needs. We focus on providing personalized attention and quality customer service to create an experience that's difficult to find in today's market. At Mark Twain Insurance Services, we'll work with you to ensure that you and those you care about most are protected.
Turning 65 Seminar! Are you turning 65 and have questions about Medicare? We invite you to join us!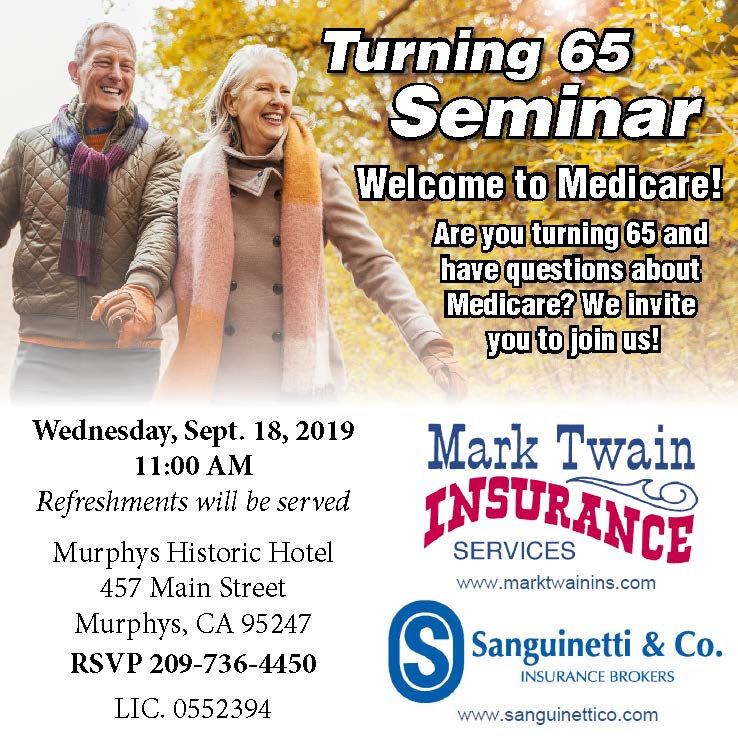 Testimonials
Accommodating, professional, helpful, and quick. Very comfortable experience and I was impressed by their capabilities. Highly recommended.

Brad M.
I feel lucky to have found an agent willing to provide this level of service. No need to look anywhere else!

Michelle D.
Over the years we've never once had to worry about our coverage. My husband and I are long-time customers and proud to be.

Carol S.
Surprisingly flexible and in-touch with my needs as a small business owner. Can't ask for more.

Spencer F.
They have strong ties with the community, and it shows. It's nice to do business with people that really show they care about you and your family.

Susan T.